Teak (Tectona Grandis) is renowned for its beauty and the ability to withstand the extremes of all climates.
Ship builders and sailors have known its value for centuries. Teak is a tropical wood whose durability and natural protective oils ensure generations of use and elegance. It is the first choice for long lasting marine use.
However, one must be aware of that there is no wood that is completely maintenance free and, depending on how one wants the teak product to look like depends on the amount of effort required to maintain that level of appearance.
All kind of wood absorbs moisture to some extent and swells. When the wood then dries unevenly, the tensions create thin cracks in the wood surface. This and change of surface colour are natural results when the wood is no longer protected by the bark. People sometimes want to avoid those changes.
Construction
We only use the very best quality timber from selected trees, which is the area of the timber where the annual rings are closest together. There is a big difference between cheap, fast grown, thinning timber, often used for teak garden furniture, and the teak specially selected for the marine environment.
Each slat is carefully selected when joining the table together, to ensure that both the colour and the finished look will be in harmony.
The table top is constructed around a 12 mm thick plywood board which has been epoxy treated twice. The surface consists of 4 mm thick teak slats with caulking in between. The table top is 16 mm thick, not including the raised edging.
Certain models are made up of a thicker plywood board which gives a total thickness of 20 mm.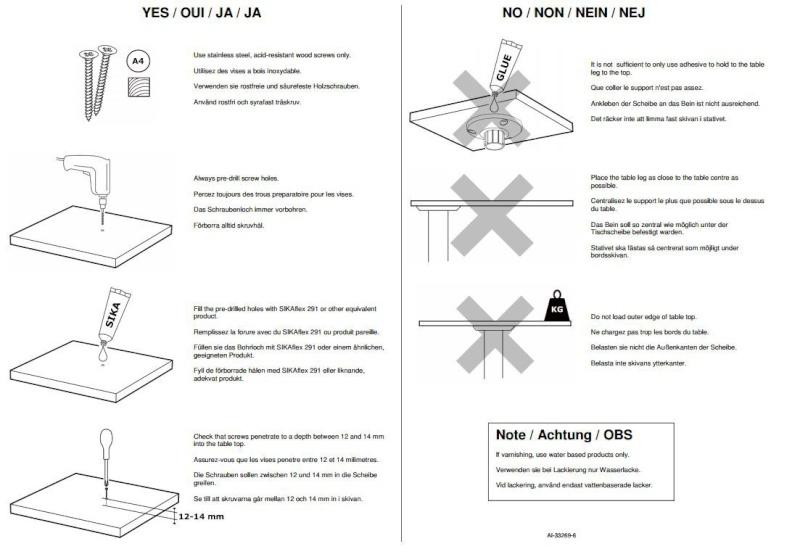 General maintenance.

Should you prefer to do a surface treatment of your teak product, the most important thing is to do a proper cleaning before. Also people who don't do surface treatment should once in a while clean their product from dust and air pollution.

Wash your teak deck/table with a soft brush or sponge, soap and water.

DO NOT use a steel brush or steel wool.

DO NOT use high pressure cleaners since they will remove the softer parts of the wood cell and create a rough surface which blunts the teak's characteristics in many important ways. It will also collect dirt easier which equals more cleaning and also make it harder to clean and longer to dry which all considerably reduces the life span on your teak Product.

Some high pressure cleaners are so strong that they even remove the caulk. Special teak cleaning products found in boat shops and many garden furniture stores (often oxalic acid) are developed to prepare the teak before and/or between surface treatments and are not necessary if you just want to give your boat deck a facelift wash-off.

Avoid contact between too strong solvents and the product caulk as it might be damaged or dissolve. Normal bleachers can be used to get rid of darker spots in the surface layer. With fine grain sandpaper you can sand off the upper layer and get a smoother surface.

Always sand along the wood fibres. Be aware of that the sanded surface gets back the original colour of the wood. A proper rinsing with fresh water should follow all heavier sanding and cleaning.

Teakwood is, through its natural oils, protected from mould and other bacteria. However, fungus can occur in dust collected on the wood surface.

This will be visible as green/black spots. If you are going to oil (or lacquer) your teak product, it should dry properly - preferably for 2 days after contact with water. Otherwise there is a risk that water gets trapped under the surface and the bacteria may slowly start to develop mould. On rare occasions this can happen also when the surface is properly oiled! Especially if you have used organic based oil. Try to use an oil with added "mould protection".

Should mould occur – the whole treatment with cleaning has to be repeated before you can re-apply according to the manufacturer's instructions.

We stronly recommend the use of Semco Teak Sealer 'Natural' which is the only product we use ourselves. Semco is available in our online store.

Avoid doing any surface treatment in direct sunlight.

The presence of smaller cracks in the wood is a normal part of the ageing process for wood. As for everything else that grows natural. This does not affect the performance and should be regarded as part of the charm of using a living material. Note that storing wood in a dry, in-door place may result in wood shrinkage and even jeopardize construction. Especially for items produced for outdoor use.

Surface treatments

In order to simplify, we have divided the advise into three categories - depending on how you want your teak product to look and how much or little work you are willing to do:

1. Let-it-be

Left alone teak's golden brown colour will change within a year to a lustrous silver-grey patina due to contact with ultra violet sun rays. The surface will get thin cracks and the product will look a bit "rough". Some people find this very attractive. Should this be your choice then this leaves the future maintenance of the teak product, apart from the occasional wash-off, minimal.

A light sanding every few years will keep the surface smooth.

2. Oiling

Should you prefer to keep or increase the darkness of the original colour, it is possible to oil the teak product. There are numerous different brands on the market – each with its special character and instructions. Some are stained and give the wood a darker tone. The Chinese "tung"oil has become very frequent in many oil mixtures since it has the ability to penetrate deeper into the wood.

Many people consider the best way of treating your teak product is by using a combination of thinner oil to first penetrate and then "Heavy Duty" oil to better seal and protect the surface. Oiling is the most demanding way to maintain your teak deck. The oiling procedure must be repeated at least once per season in order to maintain the level of appearance. Avoid using universal wood oil in non-specialised stores. The teak product darkens by age due to repeated oiling and collected dirt. If the wood surface gets a bit rough, stained and "messy", a proper cleaning with a good teak cleaning product – instructions carried out to the letter - will make the teak deck look like new again.

We strongly recommend the use of Wessex Two Part Cleaner (when necessary), followed by a few coats of Semco which is available in our online shop.

3. Lacquer

Should you prefer to do an initial, more demanding job on your teak product and don't mind a more or less shiny surface – lacquering is a method. By doing this, however, you lose some of the characteristics that make teak so special. A correctly applied lacquer (with a teak-lacquer) insures years of low-level maintenance and minimal risk of mould attacks. Some lacquers can be applied with various grades of thinner and get less shiny – they almost look untreated. The wood will darken – more or less – when applying lacquer. Please check with the lacquer manufacturer that it is suitable for teak, and the caulking.

Follow this simple advice and we know that you will enjoy your teak product for many years to come.