What sizes are available?
We have thirty three styles of table top and each style has between two and twelve different sizes available. To see the full range on one page, click here. If you are unsure as to which size would be suitable, it's a good idea to print out the page and take it with you to your boat to measure and work out which would be perfect for you. In addition to our stock tables, we can also build a completely bespoke table to your requirements. More details are available on the "Custom Table" page.
When will I receive my new tabletop ?
If the item you have purchased is in stock, you will receive it in two working days for UK deliveries, two to three working days in Europe, two to four days in the USA and one to six working days worldwide (often sooner) Please see the 'Delivery' tab above for more information.
What if the product I like is not in stock ?
We ship our teak directly from Indonesia to our warehouse in the UK and the current lead time for stock is between one and twelve weeks. If we have run out of stock due to popular demand, the product page will note this and state when delivery will be. Orders are accepted for 'out of stock' items which ensures you receive your table as soon as possible.
What are the table tops made of ?
With only the highest quality timber and the tightest grain patterns being used, each slat is individually selected during construction, to ensure consistency in both the colour and the finished look. Below is a sample design drawing - exact sizes depend on which product is chosen.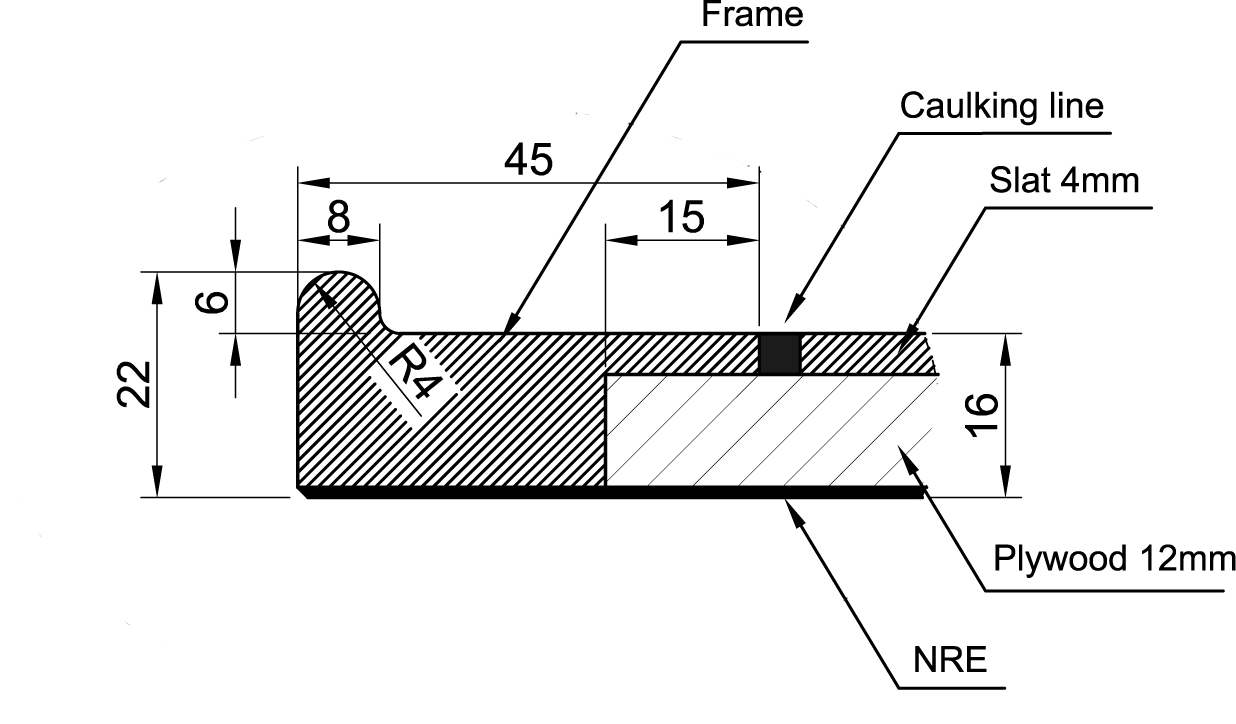 The table tops are constructed around a twice epoxied 12mm, 16mm or 20mm thick plywood board depending on the model, made of hardwood, with 4mm or 6mm thick teak slats applied to the plywood surface. This is then finished off with a black caulking compound being used between each slat, giving the table tops a thickness of either 16mm, 20mm or 24mm, excluding the raised edges known as the "Fiddle". The frame is solid teak and under the table there is a reinforced epoxy coating covered by a white acrylic film.

Do I need to maintain my new tabletop ?

Please click here for maintenance details.
Do you supply screws with pedestals or tables?
We are not allowed to supply the screws to assemble pedestals to the floor as we do not know what you would be screwing to. We recommend using stainless steel screws and length which is suitable for the floor being screwed into.

Teak is a living material - what if it slightly bends?

Teak is a living material and like all wood is effected by humidity and moisture in the air. In the unlikely event that you notice a small bend in the table, simply immerse the table in fresh water for twenty four hours and leave to dry. The table will return to its original shape.

How many tabletops are available ?

We have currently thirty three models of tabletop available including models which are foldable making them more versatile for a broader range of uses and areas. These include the Nautic Star Circle with stationary circle and hidden steel hinges, the Nautic Star Wing with a double folding design, the Nautic Star Slide with an ingenious double sliding mechanism and the Nautic Star Balcony which can be raised from a vertical surface with a telescopic support.

Is it possible to get a table in other sizes than listed ?

Yes, absolutely. If you have a requirement that is not covered by our range of twenty five different styles, we can custom build a table for you. Please see here for more information.

Is it possible to get a table top without the Nautic Star ?

All our table tops, with the exception of the 'Venice' have the much appreciated Nautic Star as standard. We can offer a service for a completely bespoke table top, please see here. These can be of any specification with designed logos (permission of logo owner required). If you would be interested in this service, please get in touch.

Do I need to treat my new teak tabletop ?

Teak Table Tops can be left bare, oiled, or varnished, depending on the finish which best suits your environment and needs. However, our recommendation is to pop a coat of Semco Teak Sealer 'Natural' on your new table. It is the only sealer that we recommend and use ourselves and is available in our online shop. If you intend to varnish the table top, we recommend that you check with the manufacturer that their product is suitable for covering the rubber black caulking used in the majority of our tables.

Should I be concerned about where I buy my teak products from ?

Yes, absolutely ! Please read further on, under The Environment topic for more information.

We have a shop / online store - Can we become a retailer for the range ?

Yes, certainly - we are currently offering opportunities in various countries for retailers. Please get in touch with us. Please note that we do not support drop-shipping companies - stockists must "stock" our range so customers can see and feel the super quality of our range.

Ordering from abroad ?

If you are ordering from outside the EU, you probably qualify for UK VAT free sales. Our prices on the site include VAT at the current rate of 20%. Once you place an item in the shopping basket, the website will automatically subtract the UK Vat from the total price. Please note that you are responsible for any import duties that may be imposed on delivery. More details can be found here.

Delivery to your marina?

Whilst we are more than happy to deliver direct to your marina or 3rd party, please note that the responsibility obviously lies with you. We will always get a signature on delivery.
Returns:
If for any reason you would like to return a purchased item, please let us know so we can give you an authorisation number, then return the item to our warehouse as shown on our "Contact" page. Return costs are the responsibility of the customer. Please note that we do not have facilities with our couriers to facilatate collection. Please make sure you package the product well and it is returned in the same condition as received. We have very few returns from customers and we strongly encourage you to check suitability / sizes of the product you are ordering are correct for your use prior to ordering.
Damaged Delivery
If in the unlikely event that you receive a damaged product, please inform us within three days of the date of delivery.

The Environment

Teak has long been associated with concerns about the rainforests of the world. Those who buy teak from Marine Teak, however, do not need to worry about such environmental concerns.

We buy solely from plantations which fulfill all of the highest demands that both we and the different environment organizations place on sustainability and sourcing. All our teak comes from state controlled teak plantations in Indonesia. The total area of the plantations has not expanded in 50 years. Through proper documentation, in accordance with the requirements of the FSC-standard, every delivery from Marine Teak can be traced back to its place of origin in the plantation where the trees were harvested and replaced with new plants

Teak originated from Burma/Myanmar might be harvested in natural forests. EU has banned all import of teak from Burma/Myanmar as from March 2008. Unfortunately the illegal business continues and the timber still reaches EU with false country of origin documentation.

Teak in the products from Marine Teak are solely sourced from plantations in Indonesia.