The Early Days
Marine Teak was actually started originally as more of a hobby rather than a full blown business. Luke Smith, the owner, had retired after building a hugely successful muli-million pound office supplies business, and after buying a boat to enjoy his retirement looked for a replacement table for the cockpit area for over two years. There were plenty on the market available, but at unrealistic prices. The saying "B.O.A.T" is indeed very true – 'Bung On Another Thousand' when talking about boating as a pastime, and replacement tables certainly came into this bracket.
| | |
| --- | --- |
| | Prices ranging from £1,000 for a modest table up to a totally unrealistic £5,000 for something more suitable can be seen from suppliers all over the world - all competing for a very small market share. It became apparent that the manufacturers and suppliers were simply pricing themselves out of the market due to the small share that was dividable between them. Expecting to cover many costs from the sale of one or two tables a week was unrealistic and prices continued to increase over the two years of research |
Boating is undoubtedly an expensive past-time. Maintenance, mooring, insurance, fuel and the like easily tops several thousand pounds a year for the average owner – often ranging into tens of thousands. Owners, used to this expense, still often look for further ways to improve their experience, and as the table top is generally the second largest horizontal product in a cockpit, it can make or break the aesthetics of even the smartest vessel. Having the option for changing what is normally a piece of white boring GRP plastic or laminate that the manufactures still insist on installing at build for a stunning piece of handmade teak furniture for less than half the cost of filling the average tank with diesel is absolutely appealing even to the most discerning owner. Even better – make the replacement less expensive than the original!
As with all new businesses, we had many goals, but our major focus was always "Make the tables perfectly built, stunningly attractive, but without the stunning price tag!"
Marine Teak was working from 'home' for the first 18 months back then. It suited the owner perfectly at the time, however the 800 sq.ft. garage and various bedrooms soon became unmanageable. Deliveries had to become containerised due to quantity of product being shipped, rather than customised shipping boxes which could easily be 'wheeled' down the driveway.
| | |
| --- | --- |
| Premises were located just a mile away in Oulton Broad on the rather suitably named Harbour Road Industrial Estate. From 800 sq.ft. to 5,300 sq.ft overnight was a worry of course and the company had to overcome some essential pitfalls immediately. It was a blank canvas – simply four walls and a roof. New offices and a toilet block which is built to modern standards and regulations were quickly erected along with new racking and shelving installed. Superfast broadband, telephone lines and office furniture was quickly installed. Two forklift trucks and various warehouse equipment now makes light work of deliveries and collections and a dedicated packing station replaced the old kitchen table! | |
Today
We now have sales in excess of three thousand tables per year. Our metal products, pedestals and supports etc, have also increased in line with sales - in excess of four thousand units per year across the range.
Marine Teak is now the number one supplier for marine teak tables all over the World. Our USA business is increasing at a rate actually faster than the UK with Australia not far behind. European orders have trebled over the last year for example and you would be hard pressed if not impossible to visit a marina anywhere in the World without a selection of our tables in vessels on the moorings!
| | |
| --- | --- |
| | Over the years, Marine Teak have added various products to the offerings, mainly metal pedestals and teak cleaning and sealing products. In fact, Marine Teak are already the largest UK retailer of the renowned product Semco Teak Sealer - a superb American product for the essential treating and sealing of teak products. And joint largest retailer of Wessex 2 Stage Teak Cleaning chemicals – the Practical Boat Owner Magazine voted number one product for deep cleaning of all teak products. |
We are also continuing with increasing our impressive range of stock teak tables with new products being introduced monthly. Our range, currently thirty styles with in-between two and twelve sizes in each design covers most requests. However, in the last couple of years we have also expanded our custom design range to include the general public (up until then, custom tables were reserved for corporate clients with orders of a minimum of ten accepted). Now, anyone can design their very own individual table and have it delivered anywhere in the world within six weeks.
We have recently introduced other teak products including a very stylish and robust teak Director's Chair in a choice of Sunbrella (the very best available fabric) waterproof fabric covers and also storage products. Free-standing tables are also in our new range and our "Captains Range" products are already proving extremely popular. Again, all of these lines along with the tables are aimed at the average boater, keeping costs to a minimum and therefore affordable to all boaters.

A small part of our business in the early years was supplying boat builders in the UK.We saw this as a major part of our future growth, and now we have massively increased this area of business not only in the UK but Worldwide. This area continues to grow and we constantly encourage builders to identify our products for their vessels at design and build stages.



Another major part, which played and obviously will continue to do so since day one, is our corporate green and sustainable responsibilities. In line with Government Codes of Practice, Marine Teak ensure that under no circumstances that we have any involvement with illegally harvested teak. Due to the poor way the world in general sees the global problem, it would be a very easy to import illegal teak at substantially reduced cost from places such as Myanmar, Burma. Such teak is illegally exported from these countries to other places such as Singapore then re-labelled to cover its origin and shipped around the World. This is very, very common unfortunately – but over the years, Marine Teak has learnt to recognise how and where these instances take place. We only ship finished product from our factory in Indonesia which is fully FSC compliant. Of course, this does not end there, Marine Teak operate a full Due Diligence operation to make sure every level of supply is completely 100% legal.
| | |
| --- | --- |
| All of our teak comes from fully sustainable sources, which are Government owned in Indonesia from plantations that were established over 200 years ago. Just to be clear – there is not, and never been any wild growing teak in Indonesia – everything is managed unlike their competitors in other countries, which for some time now the teak has been illegal to import into the European Union. Through our and our supplier's perfect documentation, every delivery can be tracked back to its place of origin in the plantation where the trees were harvested, then replaced with new. | |
Of course, Marine Teak exhibit at all major UK trade shows including the massive Southampton International Boat Show in September and the impressive London Boat Show in January.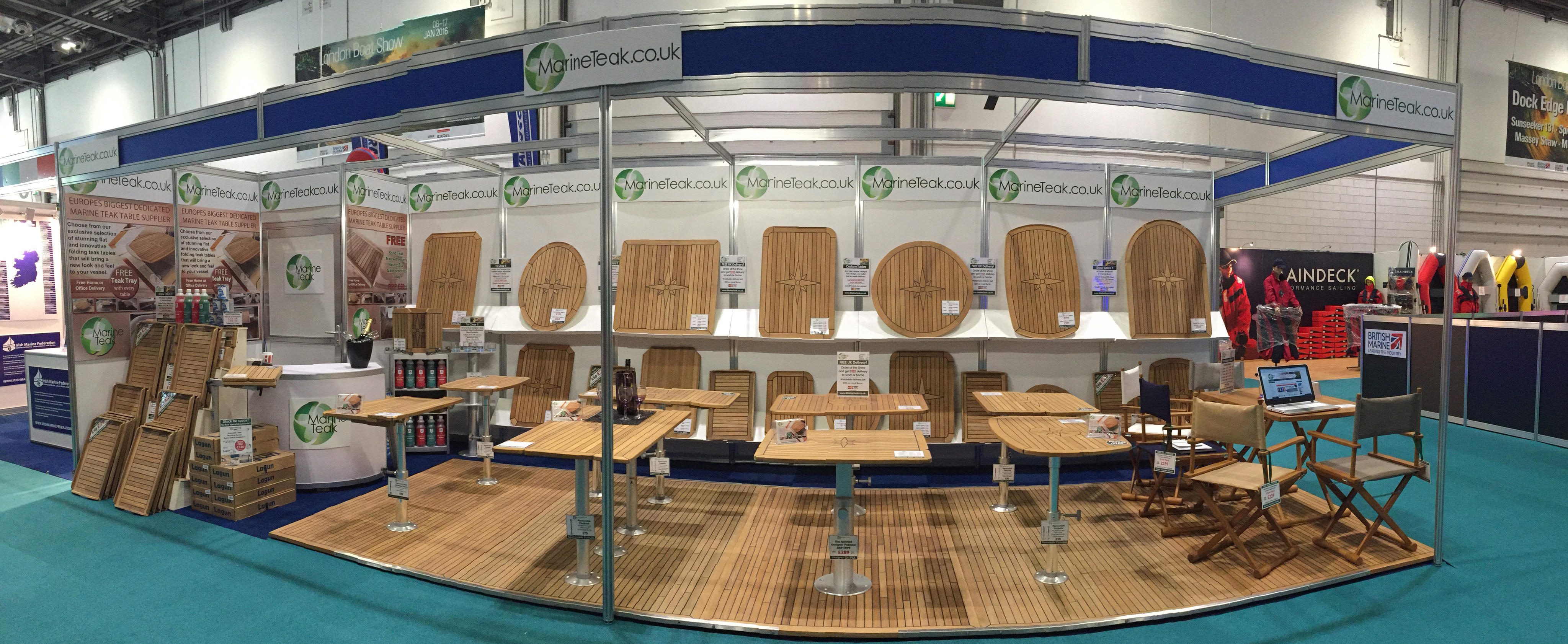 Thank you for reading our short synopsis and if you have any questions we would be pleased to answer them.
Marine Teak is a trading name of EverythingBoat Ltd.
Registered Business Address:- Evolution House, Iceni Court, Norwich, NR6 6BB
Registered Number:- 8714168